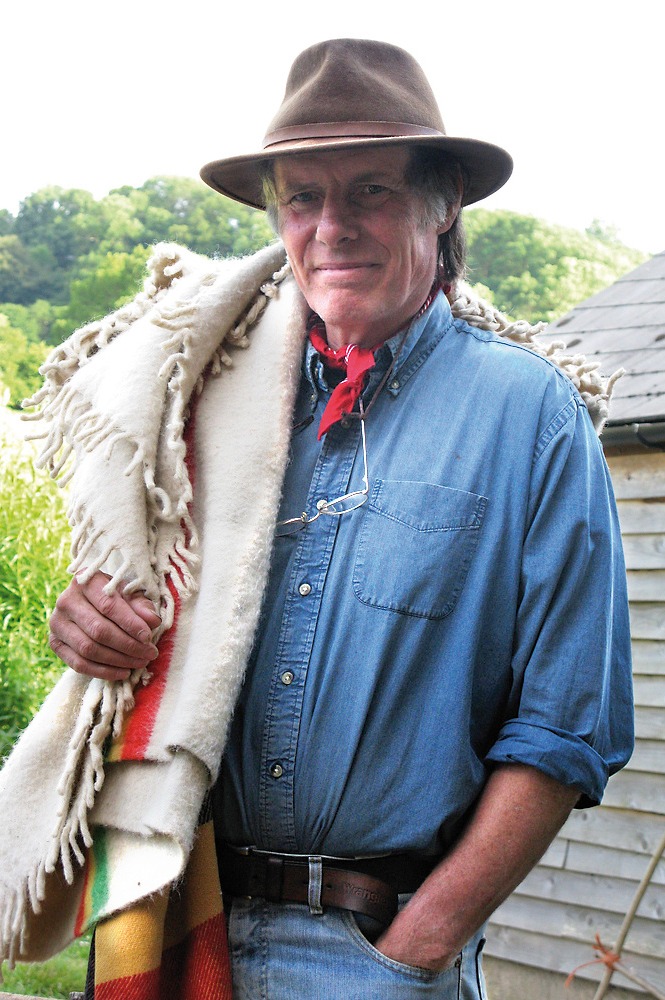 Patrick Whitefield (11th February 1949 – 27th February 2015) was an early pioneer of permaculture, adapting Bill Mollison's teachings with a strong Southern Hemisphere bias to a cooler, maritime climate such as the British Isles. He wrote a number of seminal books, Permaculture in a Nutshell (1993), How to Make a Forest Garden (1996), a new edition of Tipi Living (2000), The Living Landscape (2009), How To Read the Landscape (2014) and his magnum opus, The Earth Care Manual (2004), an authoritative resource on practical, tested, cool temperate permaculture.
Patrick was born in Devizes, Wiltshire and brought up on a smallholding in Somerset. He qualified in agriculture at Shuttleworth College, Bedfordshire and after several years working in agriculture in the Middle East and Africa, he settled in central Somerset.
Patrick has appeared in several BBC TV programmes, made popular YouTube videos and was a consulting editor of Permaculture magazine since its launch in 1992. Patrick taught many permaculture and other practical courses with his wife, Cathy, and was one of the first teachers in the world to develop an online Permaculture Design Course.
After Patrick's death, there were obituaries in The Telegraph, The Guardian and on BBC Radio 4, and tributes to him from all over the world on social media. Patrick Holden from The Sustainable Food Trust wrote, "It is only towards the end of his life that the wider significance of perma-culture ideas began to emerge… the true significance of Whitefield's ideas was not adequately acknowledged during his lifetime, but his influence will survive him…"
Books by Patrick
This is low input, year round No Dig gardening that provides your kitchen with delicious fresh food, whilst not breaking your back.
Written by an acknowledged expert, this friendly guide will help you grow food in whatever space you have – large or small, rural or urban – with minimal bought in inputs, and maximum satisfaction.
Patrick Whitefield has over 20 years of experience living and working in the countryside. Here he shares his knowledge and notes from these adventures, teaching us how to read the landscape around us.
From rivers and lakes to animal trails, tree shapes and hedgerows, How to Read the Landscape provides a unique view of the countryside, learning how these beautiful scenes came about. Opening How to Read the Landscape is like opening a window on a whole new way of seeing the living world around you.
Available in iBook and Kindle formats
The Living Landscape
Being able to 'read' the landscape whilst on a walk makes a huge difference. It is like suddenly seeing the world in colour after being used to a lifetime of black and white.
The Living Landscape looks in detail at landscape formation: from rocks, through soil to vegetation and the intricate web of interactions between plants, animals, climate and the people that makes the landscape around us.
Out of Print – Available as an eBook
Already hailed in the UK, Europe and America as definitive, and reprinted by popular demand, The Earth Care Manual offers an inspirational yet practical vision of a sustainable future invaluable to those new to the subject as well as to the experienced practitioner.
A step-by-step guide to creating a 'maximum output for minimum labour' food producing garden, designed using the ecological principles of a natural woodland.
Everything you need to know in order to create a beautiful and productive forest garden, including: basic principles, layout, choosing plants, over one hundred plant details, perennial and self-seeding vegetables, and design examples.
Permaculture in a Nutshell is a concise and accessible introduction to the principles and practice of permaculture in temperate climates. It covers how permaculture works in the city, the country and on the farm and explores ways in which people can work together to recreate real communities.
Available in iBook and Kindle formats
Patrick Whitefield lived in a self-built tipi in Somerset for eight years. This is his guide to all aspects of tipi living: the story of how he came to live this way; how to choose and pitch a tipi; living with Sun and Storm; maintenance; moving; firemaking; furnishing; food and cooking in a tipi. Full of first hand experience and practical information, it is also Patrick's personal account of a time of simplicity and spiritual connection with the Earth.
Available in iBook and Kindle formats