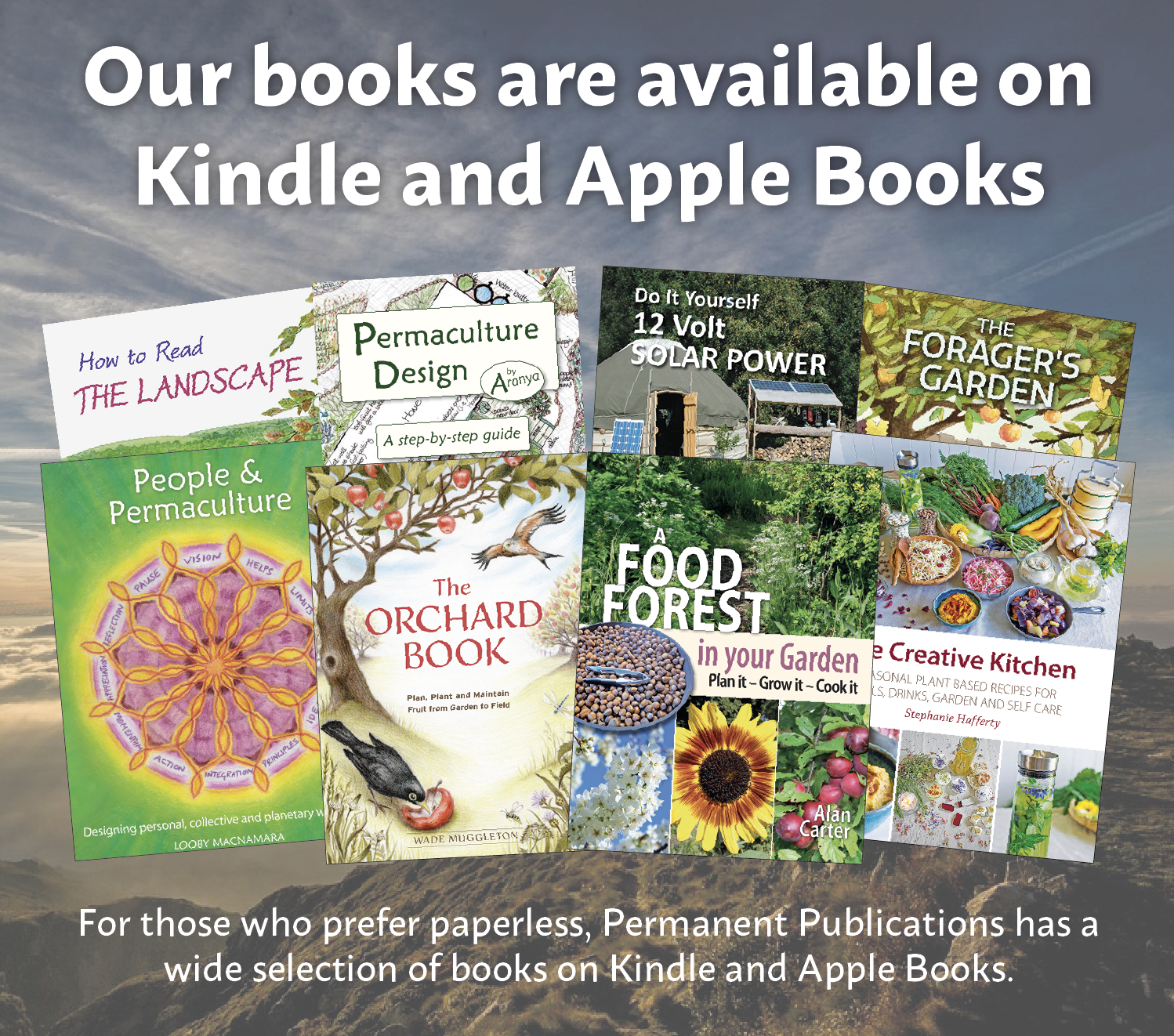 Permanent Publications has published over 100 books, available across the globe, all exploring sustainable ways of living. Topics include organic no dig gardening and food growing, permaculture design, social permaculture, natural building, green technology and education.
A large portion of our books are also available as eBooks, via Kindle and Apple Books – perfect for those who prefer to read digitally or have minimal space for lots of books.
Below is a list of our books available in Kindle and Apple Books format. You'll need to search for the book through your eBook provider.
Organic gardening and growing food
A Food Forest in your Garden by Alan Carter
Around the World in 80 Plants by Stephen Barstow
Compost Teas for the Organic Grower by Eric Fisher
Edible Cities by Dr Immo Fiebrig, Judith Anger and Martin Schnyder
Edible Perennial Gardening by Anni Kelsey
Grounded by Liz Zorab
Growing Beans by Susan Young
Permaculture in Pots by Julie Kemp
Sepp Holzer's Permaculture by Sepp Holzer
Shrubs for Gardens, Agroforestry and Permaculture by Martin Crawford
The Creative Kitchen by Stephanie Hafferty
The Forager's Garden by Anna Locke
The Orchard Book by Wade Muggleton
The Medicinal Forest Garden Handbook by Anne Stobart
The Permaculture Garden by Graham Bell
The Permaculture Way by Graham Bell
Permaculture and design
7 Ways to Think Differently by Looby Macnamara
Cultural Emergence by Looby Macnamara
Fertile Edges by Maddy Harland
Getting Started in Permaculture by Ross Mars
People and Permaculture by Looby Macnamara
Permaculture and Climate Change Adaptation
Permaculture Design by Aranya
Permaculture in a Nutshell by Patrick Whitefield
Technology
Do it Yourself 12 Volt Solar by Michel Daniek
Energy Revolution by Howard Johns
Ferrocement Water Tanks by Felicity Lee and Daniel Colman
Permaculture Guide to Reed Beds by Féidhlim Harty
Septic Tank Options and Alternatives by Féidhlim Harty
The Log Book by Will Rolls
Natural building
Building a Low Impact Roundhouse by Tony Wrench
Tipi Living by Patrick Whitefield
Economics
Drinking Molotov Cocktails with Gandhi by Mark Boyle
Manifesto of the Poor by Francisco Van der Hoff Boersma
The Moneyless Manifesto by Mark Boyle
Sustainable living
Compact Living by Michael Guerra
Find your Power by Chris Johnstone
Meat by Simon Fairlie
Towards Zero Waste by Féidhlim Harty
Vegan Rustic Cooking by Diana White
Connecting with nature
How to Read the Landscape by Patrick Whitefield
Letting in Wild Edges by Glennie Kindred