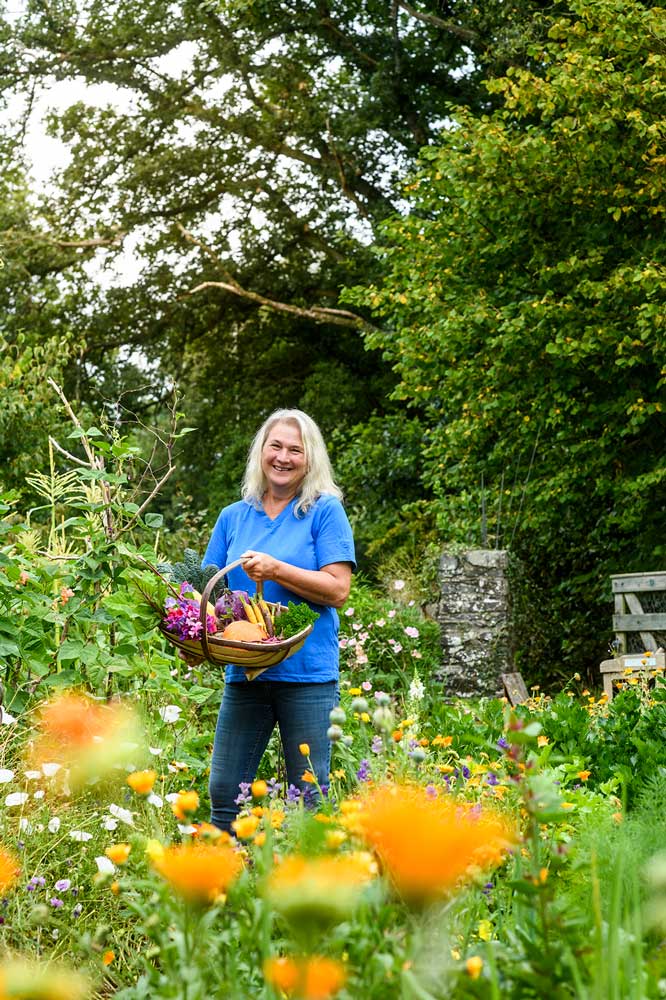 Stephanie Hafferty is an award winning author, expert no dig kitchen gardener, homesteader, writer and chef, specialising in seasonal plant based food.
Stephanie has worked as a kitchen gardener for over 14 years in market gardens, on private estates, for restaurants and community gardens. She has grown her own food year-round in home gardens and allotments for over 30 years. In 2021 she project managed and co-designed the successful RHS No Dig Allotment Demonstration Garden at RHS Hampton Court Garden Festival.
She writes for a wide range of magazines and other publications, including Permaculture magazine, and gives talks, workshops and runs courses on growing food no dig, seasonal cooking and homesteading skills.
Stephanie lives as self sufficiently as possible, growing in her new half acre homestead in Wales, sharing her experiences in regular social media posts and her You Tube Channel. For more information: www.nodighome.com
Lead photo @ Jason Ingram
Books by Stephanie

Stephanie offers a pathway to low cost, zero waste and as plastic free living as possible. She shows you the advantages and pleasures of cooking seasonally and making organic products for you and your family's health and happiness. Learn how to be resourceful, creative and inspired by what is seasonal and close to hand for a 100% organic home.
Learn how to create soups, salads, main meals, drinks, cleaning products, balms, soaps and more, all from your homegrown herbs and vegetables or fresh market produce.
£19.95
No dig organic gardening saves time and work. It requires an annual dressing of compost to help accelerate the improvement in soil structure and leads to higher fertility and less weeds. No dig experts, Charles Dowding and Stephanie Hafferty, explain how to set up a no dig garden. They describe how to:
• make compost and enrich soil • learn skills you need to sow and grow annual and perennial veg • harvest and prepare food year round • make natural cosmetics, cleaning products and garden preparations
 £23.00