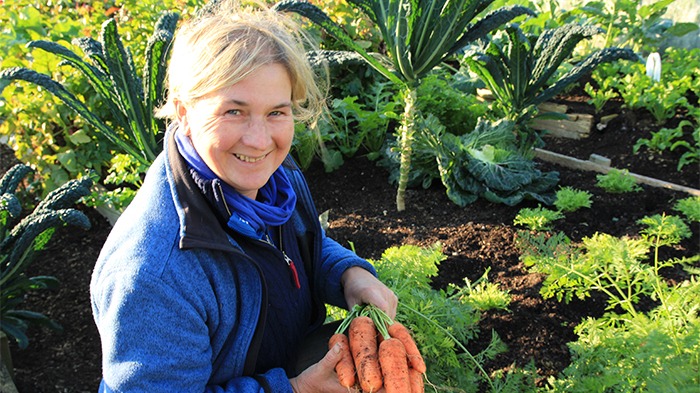 Stephanie Hafferty is an award winning author, organic no dig kitchen gardener, writer and chef, specialising in seasonal plant based food. She is passionate about sharing her knowledge of growing and cooking to feed families and communities. Stephanie regularly writes for Permaculture magazine, gives talks, workshops and courses on food growing, seasonal cooking and making potions. Stephanie lives as self sufficiently as possible, growing on her allotment and in her smallish garden at her ex-council home. Stephanie co-wrote No Dig Organic Home and Garden with Charles Dowding, which won Practical Book of the Year 2017 at the Garden Media Awards.
Books by Stephanie
How to grow your own fresh and organic fruit, herbs and vegetables in any sized garden, whilst creating healthy, carbon-sequestering soil and a biodiverse and happy space.
Stephanie shares:
• Tips on small space growing, using intercropping and module sowing
• Ideas for indoor growing for those with small/no gardens
• Step-by-step plans and timings from sowing to harvesting
• Advice on setting up your own no dig garden
• Key fruits, herbs and veggies to grow for ease, taste and nutrition
• Composting systems, water conservation and plant propagation
• Gardening for food and wildlife biodiversity
• Natural pest controls
£19.95

Stephanie offers a pathway to low cost, zero waste and as plastic free living as possible. She shows you the advantages and pleasures of cooking seasonally and making organic products for you and your family's health and happiness. Learn how to be resourceful, creative and inspired by what is seasonal and close to hand for a 100% organic home.
Learn how to create soups, salads, main meals, drinks, cleaning products, balms, soaps and more, all from your homegrown herbs and vegetables or fresh market produce.
£19.95
Buy it now
No dig organic gardening saves time and work. It requires an annual dressing of compost to help accelerate the improvement in soil structure and leads to higher fertility and less weeds. No dig experts, Charles Dowding and Stephanie Hafferty, explain how to set up a no dig garden. They describe how to:
• make compost and enrich soil
• learn skills you need to sow and grow annual and perennial veg
• harvest and prepare food year round
• make natural cosmetics, cleaning products and garden preparations
 £23.00
Buy it now
Also available as an eBook via iBooks