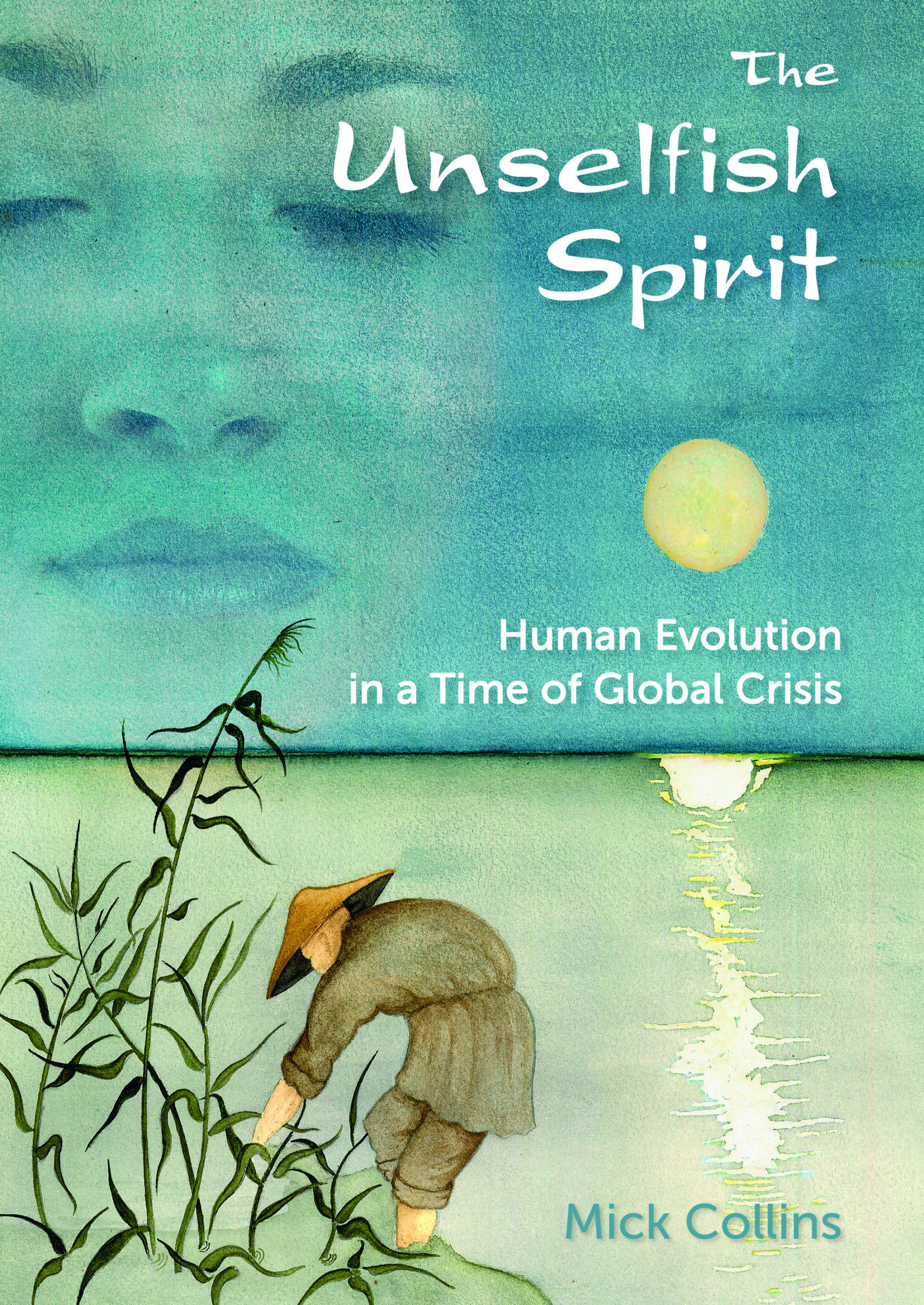 The Unselfish Spirit is an essential 21st century guide to unlocking the secrets of how we as a race can collectively grow our consciousness to solve the complex web of challenges that threaten life on Earth.
As a species, we are at a tipping point in our evolutionary journey, exacerbated by worsening ecological conditions. We have been treating the Earth as an object to be exploited, and have consequently cut ourselves off from evolving co-operatively with nature.We have to find new ways of doing, knowing and being so that we can live in harmony with all life.
In this fascinating blend of meticulously researched theory with direct experience, Mick Collins identifies how our global crisis is also a spiritual one. He suggests that the cultivation of our psycho-spiritual awareness can reveal new vistas, helping us engage in our transformative potential, both individually and collectively.
The Unselfish Spirit draws inspiration from diverse fields such as cosmology, new biology and quantum physics, along with insights from depth psychology, occupational science and mysticism. Theories are discussed in relation to transforming consciousness and are enlivened by fascinating, real-life stories of people who have engaged in deep processes of change and transformation.
At the end of each chapter there is an exercise, providing opportunities for experiential reflection, aiding you on your personal journey. With a preface by Tim O'Riordan OBE, FBA, Emeritus Professor, School of Environmental Sciences at the University of East Anglia, this is not just a learned exploration about psychospiritual transformation, it is a pathway to evolving entirely new ways of living creatively and harmoniously as a species.
This book is a treasure to be returned to again and again to gather insight, wisdom and inspiration for one's own life journey and to understand and engage with the radical and painful process of transformation that is affecting all our lives. Beautifully and clearly written, with helpful questions to ask oneself at the end of each chapter, it draws on the insights of an extensive library of authors to emphasise and clarify the unfolding and connected themes addressed. However, endorsing them all is the author's own moving story of his awakening and transformative life experience. 

A profound, enlightening and healing book that challenges us to wake up from our technological trance, address the global predicament we have created and discover the unlived potential of our long-neglected soul. If we were able to accomplish this, we would not only embark on an epic mythic journey, dying to our old ways of doing, being and knowing, but initiate a spiritual renaissance which would integrate insight with informed and effective action in the world. A brilliant, inspirational and moving manual for self-transformation and deeper communion with our long-suffering planet.

Anne Baring, Author of The Dream of the Cosmos: a Quest for the Soul

---

"The Unselfish Spirit is one of those rare books that in addition to exploring this crisis of consciousness and its implications on planetary life, supports you fully in your personal journey of inner and outer transformation. Dr. Collins offers an exercise at the end of each chapter to provide you with opportunities for further reflection and investigation. If we all engage in such a process of transformation and renewal of the self, and then act together in harmony with life as a whole, we will be able co-create a better world. The question that naturally arises is: "Will we do it?" 

Greta Rossi, Positive News