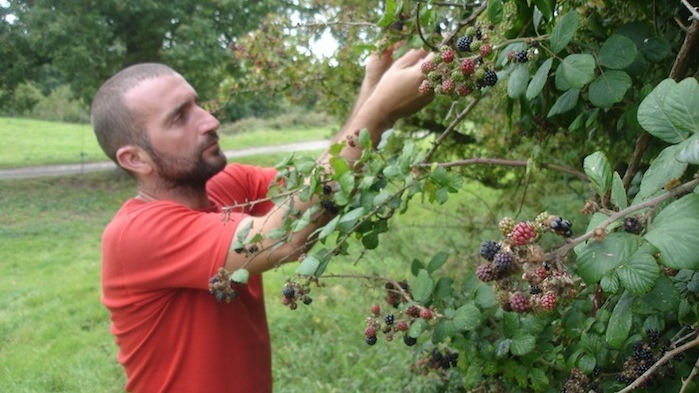 This November brings the launch of Mark Boyle's long awaited second book – The Moneyless Manifesto. Mark achieved fame as the Moneyless Man in 2008 when he pledged to live for 12 months without money – not spending, saving, earning or using it – and went on to write The Moneyless Man: a Year of Freeconomic Living to document his story.
His new title, The Moneyless Manifesto, has been produced to support, inform and encourage others who would like to explore this possibility, including the practical measures required to become more, or totally, independent of money.
The book is being published by Permanent Publications and, along with Mark, we think that such a groundbreaking subject as moneyless living deserves an equally innovative approach to distribution of its information.
The book will be available in a variety of ways:
In keeping with Mark's viewpoint that information should not be made falsely scarce, the book will be available for free for all those who would like to read it online.
For those who wish to own a hard copy, the book will be distributed by the Guild of Master Craftsmen and sold all over the world under a Creative Commons licence. This will effectively allow you to share it with others, in whatever way you like, as long as you don't do so for commercial purposes.
In Mark's own words:
"If you do buy a hard copy of this book, your money is going towards two things – the cost of printing a book in a money-based economy, which is a reality of our Age; and supporting some other work – that of Permanent Publications in the field of Permaculture, and that of myself and others in our efforts to create a fully localised (and land-based) gift economy in the UK. We aim for this to be a resource for others to draw upon, and an example of another way of living on this planet – one in intimate connection with the land under our feet, the myriad forms of life we share it with, and the people of our communities. Because we're offering the book online for free, buying a copy is in effect 'making a return gift' if you find it valuable; the money from which will be going to support these endeavours.

"So whilst we want to make sure that everyone can read it, regardless of circumstance or ideology, we also want to make sure that if people want to read a hard copy they can and that the money goes to what we believe will be the most positive beneficial use."
In this spirit the release of the book will be accompanied by the launch of a new Moneyless Manifesto website. The free version of the book will be available there along with a forum for those aspiring towards a life which is less dependent on money to share experiences, stories and opinions, as well as practical suggestions for ways to live a fulfilling and comfortable life without money. In this way, Mark's intention and view that moneyless living is accessible to all can be realised, with people from all walks of life getting involved in the debate on this forum, and sharing ideas in the true spirit of a gift economy. This is a grassroots-up approach, in the belief that all solutions must be localised to some degree, and that if we all share our ideas and practical solutions freely, we'll all be much better off.
£14.95
Special price £11.20
Book details
Published: November 2012
ISBN: 978-1-85623-101-5
Size: 228mm x 152mm
Format: Paperback, 352pp
Distributed worldwide by The GMC Group
Email: [email protected]
Tel: 01273 402808