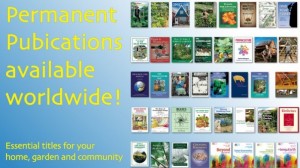 On the 1st January 2013, Permanent Publications will be joining forces with The GMC Group.
The GMC Group will provide sales representation as well as the marketing and distribution of all Permanent Publications' book titles, which will help its publications reach a much broader and much more global market.
Permanent Publications is a growing business, established in 1990 with the aim to publish and produce books, eBooks, DVDs and websites that provide information to encourage people to live more healthily, self-reliant and ecological sound lives. Permanent Publications specialises in permaculture, a practical toolkit for creating low carbon ways of living. Based on natural principles found in ecosystems, these can be used by anyone, anywhere – in our homes, gardens or the wider community.
Permanent Publications also publishes Permaculture magazine, launched in 1992, available quarterly in print and as a digital edition and an App. The magazine has grown from tiny beginnings and now has over 100,000 readers in readers in 77 countries.
"Permaculture magazine has always been our flagship publication, with readers all over the world. We have always wanted to make our books similarly available. The GMC group, with its representation all over the English speaking world, will make that possible," says Maddy Harland, Permanent Publications' CEO.
Based in East Sussex, The GMC Group publishes and distributes over 4,500 books and magazines nationally and internationally, with a very diverse range of titles, from photography to woodworking. They have a network of dedicated employees, professionals and individuals, all focusing on building lasting relationships with their customers, while providing the best products available.
The new agreement will enable distribution into stores all over the UK, Ireland, Western, Eastern and Southern Europe, Scandinavia, Middle East, South America, Asia, Africa and The Caribbean. Permanent Publications will retain Chelsea Green as their North Amercian distributors, a longstanding relationship between two pioneering green publishers.
Tony Rollinson, Sales Director of Permanent Publications, comments on this exciting new development:
"Permanent Publications is a growing business that is rising to the challenge of making books available to the increasing number of people who wish to enjoy growing their own food, saving themselves money and vitally to tread more lightly upon our planet. To be found by this ever-increasing number of people, we needed a distributor who could help us be in the right bookshops, garden centres, libraries and specialist retailers. But, as well as this, we also wanted to grow with a company that holds a similar ethos and with staff who understand and empathise with our vision – The GMC Group fulfil this criteria admirably.
"GMC's marketing, distribution and sales team are already putting our titles in front of a new audience and 2013 looks like being a breakthrough year, both for our titles and the permaculture movement that we are a part of."
For more details about our distribution network and The GMC Group see Trade Contacts & Distribution.