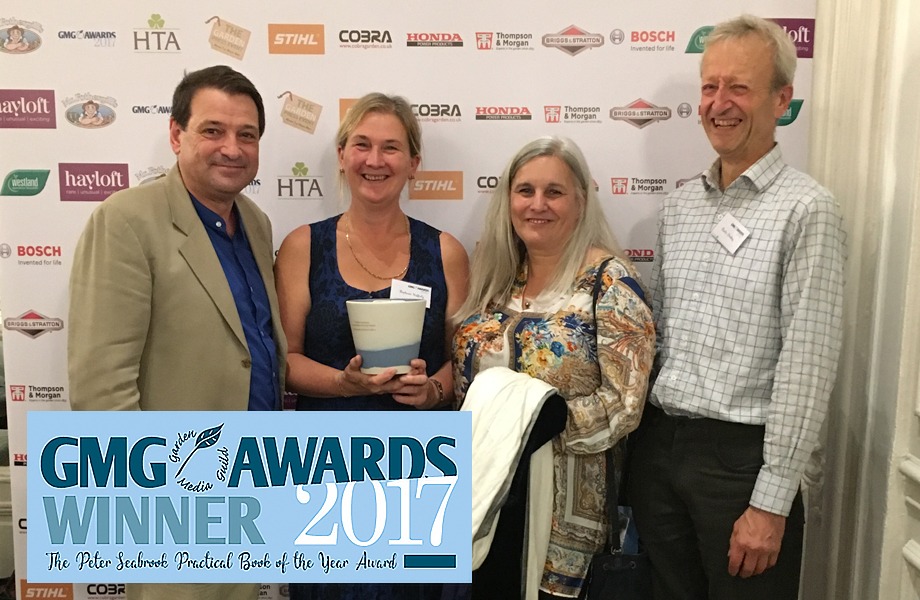 Everyone loves a David versus Goliath story and that is what has just happened in the highly competitive world of book publishing.
Against all the odds, independent publisher Permanent Publications (the publishing arm of Permaculture Magazine International) have just slugged it out with industry giants and won the main prize at the 2017 Garden Media Guild Awards (GMG). Our No Dig Organic Home and Garden book by Charles Dowding and Stephanie Hafferty beat major industry supported celebrity titles to the prestigious Peter Seabrook Practical Book of the Year at the annual event held at The Savoy Hotel, London on Thursday 23rd November 2017.
"The judges were bowled over by the sheer volume of useful information in this comprehensive book. Written with obvious passion by people who practice what they preach, it's full of immensely logical and clear explanations that don't baffle with technical terms. The useful key tables and clear, informative photos all add to this hugely practical book that is perfect for anyone interested in growing their own veg and making the most of their harvests without needing to dig." www.gardenmediaguild.co.uk/awards/winners-2017/
No Dig Organic Home and Garden has already sold over ten thousand copies in the UK and North America and the GMG Award will further promote the authors' 'no dig' gardening expertise to gardeners. The publisher also believes it is evidence that their passion for supporting positive, can-do sustainable living messages are not only needed but are now wanted by a public who are ever more educated about our effects on planet Earth. These methods also help in this age of austerity when many are having to tighten their belts economically.
Permanent Publications have been publishing books, and the quarterly Permaculture Magazine International, for over 25 years and this is their first major book award (although they are a recipient of the Queen's Award for Enterprise). For them it shows that old, outdated thinking can be challenged and embraced. It is akin to French winemakers being challenged by other vintners across the world. Now we can source new local, tasty wine varieties, buy new craft beers, Fairtrade teas and coffees, and there is a resurgence in growing our own veg, herbs, craft home brew and winemaking.
If David verses Goliath is about being different then Permanent Publications certainly are:
They only use UK printers, refusing cheaper, environmentally damaging overseas printers and retaining British jobs. They use FSC paper.
They are co-founders of The Sustainability Centre, a 55 acre educational site on the South Downs, which offers hands on experiences with the environment for school children and adults alike. Unlike most publishers, they don't just write and talk about things, they actually walk their talk and are part of the solution to many of the environmental challenges we are facing.
Permaculture has grown from humble beginnings to being adopted in over 170 countries worldwide and being a major supporter and influencer of growing techniques, soil replenishment, wellbeing and importantly future care*. It is a ecological and social movement that is making real, practical changes and that is what the GMG Award acknowledges – within our own gardens we can be climate awareness champions and care for other species. No Dig Organic Home and Garden illustrates what to grow, how to store, harvest and cook our produce. This is connecting gardening to our real needs and explores our potential to live more lightly on the Earth.
Permanent Publications was founded in 1990 by Maddy and Tim Harland and has produced over 80 titles. Topics range from green building, permaculture and gardening, to people care and transition. Authors include Grand Design favourite, Ben Law, temperate permaculture pioneer, Patrick Whitefield, Martin Crawford, founder of the Agroforestry Research Trust, and Maddy Harland, co-founder of Permanent Publications and Permaculture Magazine International.
For more information about No Dig Organic Home and Garden visit: HERE