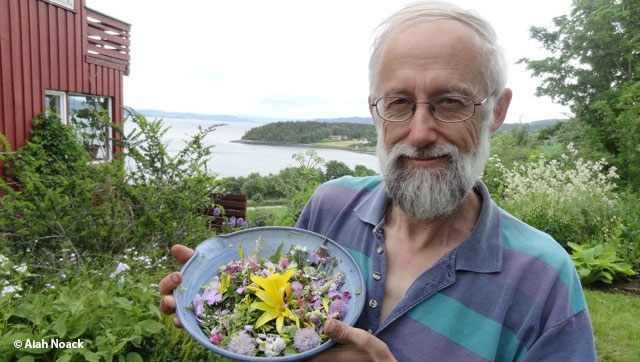 Since we published Plants of a Future in 1997, there has been no new book exploring edible perennial plants that can be grown in cool temperate climates. Until now!
Stephen Barstow is a world acknowledged expert in this subject with unprecedented experience and an extraordinary collection of plants that he has personally grown and tasted. There is no one else quite like him on the planet! He has now written Around the World in 80 Plants, an in depth guide to his favourite 80+ favourite edibles from across the globe, after years of personal research.
As a professional Oceanographer, his job has taken him to all continents of the world and this has allowed him to explore an incredible variety of edibles, many of which are also beautiful ornamental plants – so gardeners are now set to get the best out of their garden and not only the beauty but eat it too. Stephen lives in Norway near the Arctic Circle so if he can grow these edibles gardeners in milder climates can as well.
Stephen is an active speaker and a passionate advocate of extending our diet far beyond 'meat and two veg'. He speaks internationally on his subject.
Foreword by Alys Fowler who believes we may just have a genius on our hands:
"This book speaks of its maker … It's a wonderfully detailed, often eccentric look at all the plants you've ever wondered were truly edible. Stephen is an extraordinarily clever man with a truly academic approach to knowledge, thus every detail you could wish for is in here. I've been poring over my copy and have made a list of must-try plants, planning how I can rearrange my garden this winter so I can fit in more of these."
This could be our most successful title to date globally.
For more information on Around the World in 80 Plants by Stephen Barstow visit HERE.