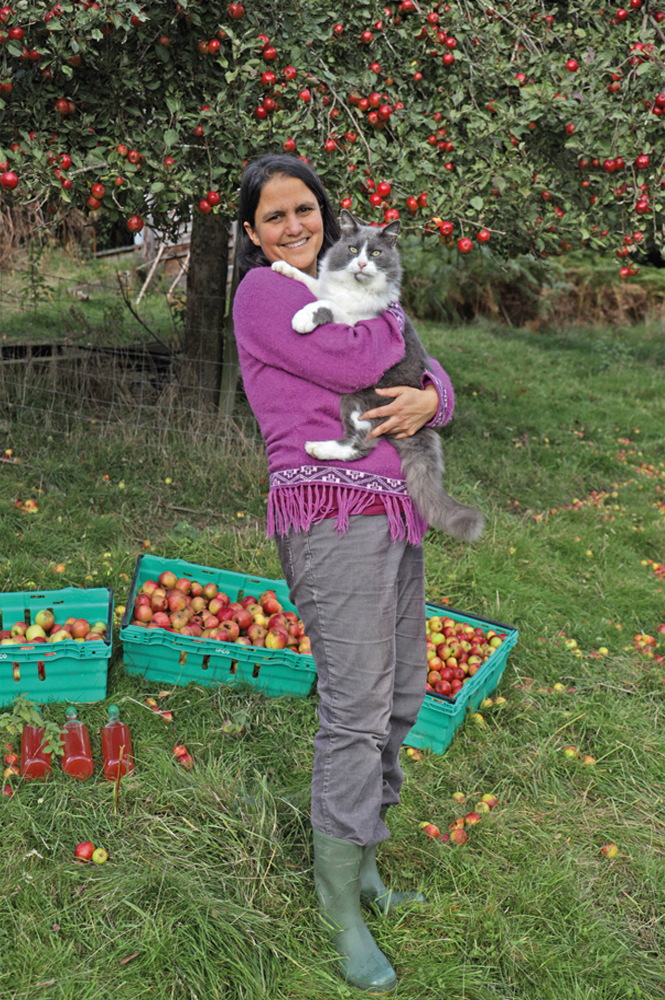 Looby has been teaching permaculture since 2002, and is partner of a leading teaching and consultancy venture, Designed Visions. She runs traditional introduction, full and advanced permaculture design courses, as well as teacher training. She also specialises in People and Permaculture courses, including Design Immersion weeks, Social Permaculture and 7 Ways to Think Differently courses.
Looby has a passion for creative teaching methods and likes inventing participatory activities and games to enhance learning. Her degree in Human Sciences provides a wealth of perspectives to bring into her teaching and writing.
She has supported the development and growth of permaculture nationally through her input as trustee of the Permaculture Association (Britain) for 5 years (2001-2006) and was the Chairperson for two of these. She is still an active member of the permaculture community and is a senior diploma tutor.
Looby and Peter Cow have run People and Permaculture Facilitator Trainings. From this a collective of People and Permaculture facilitators have come together as Thriving Ways, who are collaboratively developing the theory, practice and profile of people centered permaculture.
Looby lives in Herefordshire with her partner Chris Evans and two daughters. She is in the early stages of setting up Applewood – a permaculture education and demonstration centre in the Golden Valley.
In 2016 she will be launching the first of her online courses based on her second book 7 Ways to Think Differently. To learn more about Looby and her projects and courses, including the online course, visit her blog: www.loobymacnamara.com
Books by Looby
The challenging times we live in show us that there is no going back to 'normal' life, but how do we step forward? Looby Macnamara, international thought leader and teacher, introduces 'Cultural Emergence', a framework and toolkit that enables us to design the world we want to live in. It activates healing and revolutionises our approach to creating life-sustaining and regenerative cultures.
Drawing upon the lineages of indigenous wisdom, permaculture design and systems thinking, Cultural Emergence is a profoundly effective toolkit for creating a new understanding of culture.
If we can change our thinking, the health of our future, our lives and the planet can be changed.
7 Ways to Think Differently explores personal, social and environmental concerns in our daily lives, helping us to make achievable and incremental changes.
Abundance thinking, Solutions thinking, Systems thinking, Thinking like nature, Co-operative thinking, Thinking for the future, From thought to action, are the seven different thought systems which can shift us to a better present and put us on the right track to improving the future.
Available in iBook and Kindle formats
This first dedicated book on Peoplecare explores how to use permaculture to restore personal, social and planetary well-being. This book provides a framework to help each of us improve our ability to care for ourselves, our friends, families and for the Earth. Second edition with new introduction.
1st edition available in iBook and Kindle formats