In 2002, Howard Johns founded Southern Solar which grew into one of the largest solar companies in the south of the UK. He served as chairman of the Solar Trade Association for five years, representing the industry in the media, as well as in parliamentary hearings and at national and international conferences. Howard led the development of his local energy company and was instrumental in raising funds to build the first community owned solar PV system in the UK. He is a vocal advocate for renewable energy and a champion of community energy.
Books by Howard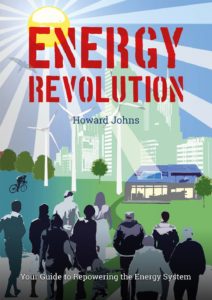 In developed nations we are wasting massive quantities of energy providing heat and light to our homes and businesses, whilst one and a half billion people have no access to electricity at all.
Energy Revolution shows we can change this. Howard Johns demonstrates how we can develop our own renewable energy projects to provide local energy and create a new fleet of businesses. He shows how to design and set up and fund community energy systems which will create jobs and new businesses as well as local renewable energy resources. This handbook covers everything needed to structure your community power company – the technology, site assessment, legal and business planning, fundraising and financial modelling whilst putting people at the heart of your strategy.
It's time to take control, re-localise, reduce costs and carbon emissions, and join the energy revolution.
£19.95
Buy it now
Available in iBook and Kindle formats