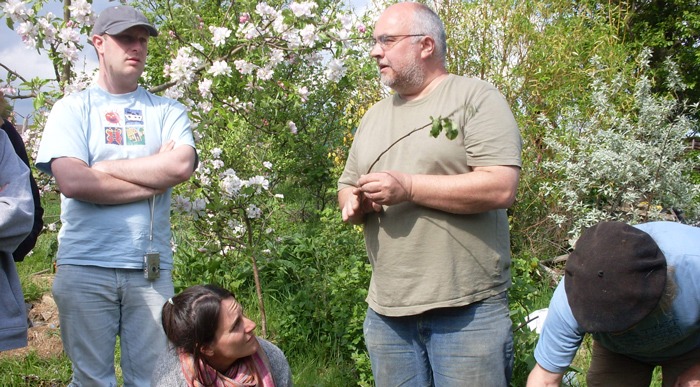 Graham Burnett, author of Permaculture: A Beginner's Guide and The Vegan Book of Permaculture, lives with his wife Debby and four children in Westcliff on Sea.
He teaches and runs permaculture courses in North London through Naturewise and in West Essex at Dial House and is the founder of Spiralseed, an ethical organisation based around the three principles of permaculture, Earthcare, Peoplecare and Fair Shares. They offer courses, workshops and publications.
Graham works with other projects and organisations including Comic Relief, Capital Growth, Bioregional, OrganicLea, Birmingham Decoy, Trust Links, Green Adventure, the Vegan Organic Network, Thrive, Ars Terra (Los Angeles), Ekosense Eco Village (Croatia) as well as a number of Transition Town initiatives.
As well as cultivating his own garden and allotments, Graham contributes to publications as diverse as Positive News, The Sunday Times, Permaculture magazine, Permaculture Activist, New Leaves, The Raven, Growing Green, Funky Raw, The Vegan and The Idler.
Books by Graham

The Vegan Book of Permaculture offers a range of delicious, wholesome and exploitation-free recipes for the family or to share with friends and gatherings.
Graham is a passionate vegan, showing how we can all grow our own veganic produce to live healthy lives, whilst reconnecting with nature.
Graham provides solution-based approaches to nurturing personal effectiveness and health, eco-friendly living, home and garden design, veganic food growing, reafforestation strategies, forest gardening, reconnection with wild nature and community regeneration with plenty of practical ways to be well fed with not an animal dead! This is vegan living at its best.
£15.95
Buy it now