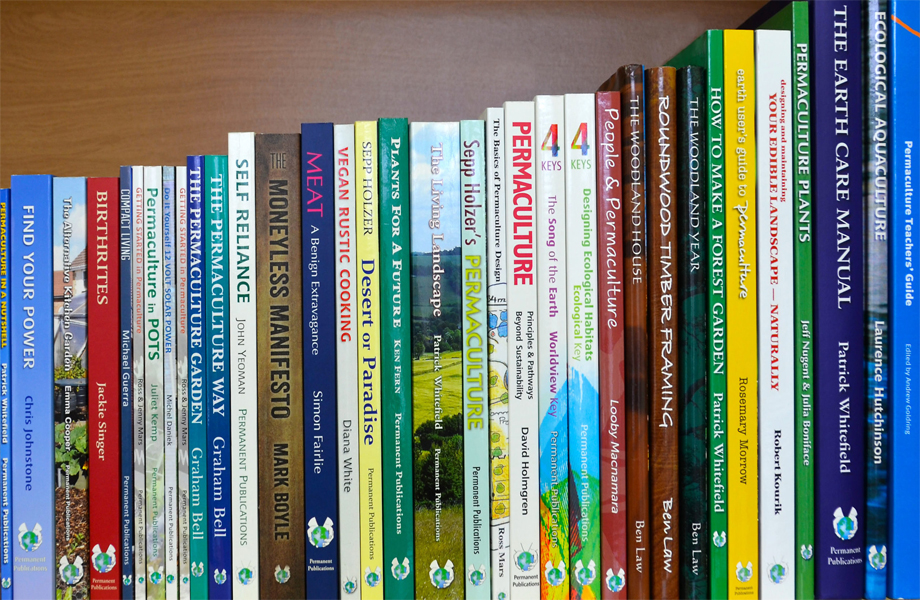 Permanent Publications publish books that encourage healthy living, self-reliance and ecologically sound lives. Are we right for you?
1. Permanent Publications work with Orca Book Services for our logistics. They hold 23,000 titles which means our titles can be batch shipped to all the main trade outlets in Britain. It is so easy!
2. Permanent Publications has a long standing relationship with its North American co-publisher and distributor Chelsea Green Publishers.
3. Both of the above ensure that Permanent Publication's titles are prominently represented on www.amazon.co.uk and www.amazon.com leading to an increasing number of its titles rising in the Amazon ranking (such as Charles Dowding and Stephanie Hafferty's No Dig Home and Garden which is currently no. 64 in the Organic Gardening category in the UK). These factors lead to more exposure and with this more sales.
4. As well as being a print publisher, Permanent Publications is a highly accomplished ePublisher. Over the past 5 years we have invested time in developing an understanding of the eBook market and offer an across platforms package which means that our books are out there in all the most read formats and in formats that work for readers. Our eBooks are also distributed all over the world by our library suppliers, Gardners (UK and rest of world) and Overdrive (USA).
5. As well as our distribution networks we also sell our titles via our own many networks. Our online magazine permaculture.co.uk is a powerful platform established in 1996. We also run a retail website Permaculture Market. This hands on selling means that we remain connected to our publications on a daily basis. Foreign translation rights is another important aspect of our business which we handle in house. We have allied publishing houses all over the world who buy our titles.
6. Permanent Publications also produce the quarterly magazine, Permaculture magazine, that actively promotes the growth of permaculture and places its influential books and authors in front of a print and digital readership of at least 100,000 readers per issue. Permaculture is distributed by Select in the UK and all over the world and by Disticor in North America. We have a truly global publication which provides a useful platform for our authors.
7. One of the main principles of permaculture is that of beneficial relationships. We keep actively in touch with a plethora of contacts, like prominent reviewers at other publications or websites, or an increasing number of friends via our extensive social media groups. We have a large social media presence across all platforms (circa. April 2019):
YouTube: 40,500 followers
Facebook: 308,000 followers
Instagram: 81,600 followers permaculturemagazine
Twitter: 38,900 followers @PermacultureMag
8. Permanent Publications look to work with like minds and have long relationships with its authors, designers, proof readers and distributors. It is a team effort with everyone passionate about the support they offer and the roles they play. We steadfastly still use British printers, supporting local workers and skills. Our list of authors is very international. We are proud to have longstanding relationships with woodsman Ben Law, Patrick Whitefield, Sepp Holzer, 'Moneyless Man' Mark Boyle, Looby Macnamara, Charles Dowding, Stephanie Hafferty, Glennie Kindred and Liz Zorab. We also enjoy developing new talent and work with young up and coming authors as well as established names.
9. At a time when many publishers are struggling, Permanent Publications and Permaculture magazine are seeing their sales rise. The editorial team have over 30 years of experience of publishing groundbreaking titles. Founded by Maddy and Tim Harland in 1990, Permanent Publications is a vibrant growing team that practices what it publishes. We are a well established, stable team and are still steered by our original founders.
10. Finally, we offer twice yearly royalty payments, complete with sales figures and percentages. Authors have thanked us for the transparency of these figures, and for paying regularly. For all the work you do this is the least you deserve. This includes all of the eBook, Kindle, etc sales. The important relationship for us is with our authors. We want to serve you well and for many years and not only sell books but help you develop your career in whatever way you chose. We actively promote our authors' courses and help develop their media profiles.